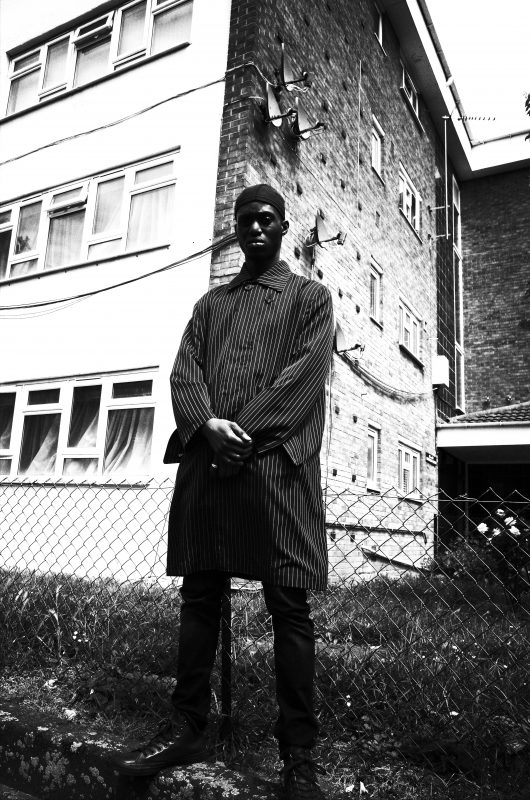 We met East London artist Rarelyalways to discuss life, influences and his upcoming album "Work" due out March 10th.

Tell us about your journey into music and what influenced you early on? 
I liked a lot of Louis Armstrong. At primary school we used to sing a lot of hymns and people used to take the mick and I don't think a lot of my friends realized it but I actually liked it. So Louis Armstrong was like the introduction, that really brought me onto ballads. Sherley Horne, Dinah Washington. After that I started diving into American folk music, The Delfonics, The Stylistics, Norman Connors and I want to emphasize, – slow music. Because I like the time to digest it. Because it's going slow it allows me the time to concentrate on what they're saying. In grime, the tempo is pretty fast so a lot of it can go over your head but I like the time to take in what's being said.
Growing up in East London when you did, Grime must have been all around you. Did that influence your music at all?
My main influence from grime was actually President T. There's certain rappers where every bar means something, every bar has substance and punchlines. I feel like because it's so fast you can say the same thing and it can get boring sometimes. But President T found a sweet spot. That would definitely be a collaboration I'd want to do.
Although your music is grounded in Hip-Hop, it doesn't feel like it just sits in that world?
I'm listening to Pat Metheny, to Focus, an Amsterdam based prog rock band so there's so many influences in what I'm doing. 
I love American music because they're so vocal, they're not like us British because they'll always speak up. I'm not surprised about what Meghan has done in the Royal Family. That's the thing about Americans, they're very bold. I've tried to adopt that, they're very unapologetic.
The first track we heard was "Another" which reminded us of some of the spacey Jazz stuff from the 70s?
I do listen to a lot of jazz. I played in a 4 piece band called Triforce, and we love a lot of Jazz. I was always seeking inspiration, thinking "is it music for the feet or music for the head?". With Another, I thought I needed to make my music more lively. So I started being real with myself, "what do I listen to with my friends?" so I started looking at Lethal Bizzle, Giggs, Fekky and wondering, "what are they doing to make this so jumpy?" So I just took that and mixed that with what I was doing already. With the lyrics for Another, I've sat in a lot of court proceedings and I'm fond of lawyers and the way they can change the temperature in a room. So "My current interest is to cut out the white noise" I can tell you the lawyer that said that, It's not actually me I just pieced all this together.
It sounds like your work in courtrooms has influenced your music?
It's interesting because you can literally turn everything top heavy in a split second. If you have an interesting point, you can put doubt in people's minds and before you know it you've got grounds and a leg to stand on. I've just always adored the English language, it's a great language to be creative. In certain cultures it's either Yes or No, in English there's a lot of room to maneuver. 
It seems like you're picking up phrases and words and channeling all that into your lyrics rather than just sitting down with a pen?
What it is, anyone that knows my dad knows he was very articulate. He was Head of Agriculture for ten years in Nigeria and he made sure to instill in me when I was young to speak. He always tried to get me speaking up from a young age. If I got a bad report in school he would always want me to defend myself. Even if I was right, if I didn't speak I'd get in trouble. So until you learn to articulate yourself you've lost. He used to jump on the bus just to read books, so being his son there's this pressing desire to convey what I mean. 
Is that where your name comes from?
People know me as Razor, that then went to RA, but there's a rapper in South London called RA. So I was trying to think of abbreviations, I wrote several down but then Rarelyalways just slipped off the tongue and I can be predictable or unpredictable. It just sounded strange but it flew off the tongue.
I wanted to ask you about your new releases, "Voice note 0142" tell us how that came about?
I used to play in a band called Hester. One day I said, "I've got an idea, these are the chords, this is the vocal line, this is the drum beat" and I used to play a lot of bass back then. That was the first time we played that, we never got to play it live, but I was just itching to hear how it would sound. So I just put my phone out in the middle of this shed in Ladywell, the first take was exactly what I was looking for. It gave me the drive to carry on, I was in college at the time and there were a lot of distractions. I had it on my HTC, moved it to my iphone and it kept on following me this voice note from phone to phone. So i just thought, let me give all the musicians a percentage and put it on my new album. So I think it just needs to be given the spotlight.
For the single "Lets" it sounds to me like a ballad, but what was the idea?
That's interesting, the producer, Eyes, he's produced for Headie One, Notes, he's quite a big shot producer but he's very humble. So he made the beat, and I just thought, I'm gonna be cheeky. I don't usually swear in my music or use derogatory language but I said no, be who you really are. Because my true personality, I'm a little bit rude, I'm a little bit naughty sometimes. So I thought i'd be a little bit honest in this music and be a little bit cheeky and sexual. But I didn't really like the song, my whole team were saying it's definitely the single but I wasn't really fond of it. It's only when I'm hearing it now that I'm thinking it's kind of a vibe. 
How did your collaboration with Hanni El Khatib come about?
God Knows, they reached out just after I released Figure. It got a lot of hype and a couple of weeks after it came out. Hanni's amazing. I want to do more work with him but on the rockier side of things. I love rock, whoever I date in the future just gotta accept it. 
If you could collaborate with anyone in the world, who would it be?
Armani Caesar, Ego Ella May in the UK. I'm really feeling the female rappers nowadays. They give me the most motivation. When I hear their lyrics it just touches me. When a man says he's suffered it's one thing but when a woman says it just hits me more. So it would definitely be more females I'd like to collaborate with. 
In terms of production, you've collaborated with lots of different producers and artists but you also make a lot of the music yourself, what's the process for getting the musical side of it down?
Voicenotes, I'm literally vocalizing the drumbeat, vocalizing the keys and then I lay it down. 90% of this album I produced. This season I'm trying to let people know that I'm a bad boy producer as well. 3 of the singles are my productions, it's only "Lets" that isn't.
If you're taking someone to eat in Hackney, where are you going?
I think its closed down but there is a place in Dalston called Grill Island. Best Caribbean spot in Hackney but because they've closed down nowhere now.
What's your day to day like?
I've been juggling. I'm really keen on multiple incomes. But what I've been doing is taking away and making sure I've got so much free time, I just want free time, I don't even go out on Weekends now. So I'm just trying to fill myself with substance so I've got things to think about. So I've been making time so I've got capacity to work, so I've got capacity to read. It's a lot of inside work I'm doing right now. It's quite intentional what I'm doing, because I'm trying to fill myself up with all this goodness. And when it's appropriate I'll start going out again, but there's books I need to read, music I need to listen to and trauma I need to assess.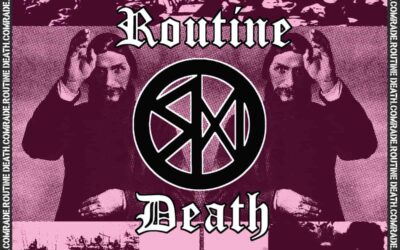 Husband & Wife psychedelic duo "Routine Death" have released their 3rd record "Comrade" earlier this month and in our estimations it's their...
read more